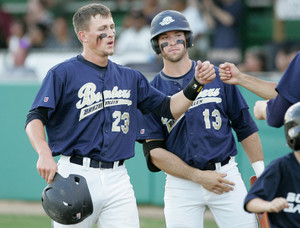 Bryan-College Station, TX (May 30, 2014)- The Brazos Valley Bombers (2-0) overcame a one run deficit en route to a 5-4 comeback victory over the Acadiana Cane Cutters (0-2) Friday night, scoring two runs in the final two innings of the game to complete a sweep of their first series of the season.
"The goal coming here was to get two victories," said Curtis Dixon, Bombers head coach. "[Acadiana's] a good club. We are going to be fighting with them all summer long but the bullpen came in and did a good job."
Left fielder G.R. Hinsley began the scoring for the Bombers with an RBI single in the top of the first. Hinsley, who led the TCL in RBIs last year, has three to start the season. The Bombers scored two runs in the second thanks to second baseman Jimmy Norris's RBI single and an RBI double from right fielder Ford Moore. Norris and Moore combined for five of the Bombers' seven hits and each had an RBI and a run scored.
"I didn't hit great yesterday but I was seeing the ball well today and felt I could do what I wanted at the plate," said Norris, a UT-Dallas product who went 3-for-3 with three singles and a walk. "I turned on a couple of pitches and got some base hits in some good spots."
The Bombers found themselves down one entering the eighth inning, but designated hitter Tucker Pennell plated Hinsley on a single to tie the game going into the ninth. The Bombers loaded the bases to open the top of the ninth and took the lead off a fielder's choice from center fielder Blake Kopetsky, which proved the difference in the game.
Starting pitcher Mike Walker lasted through five innings allowing four runs with two strikeouts.
The Bombers bullpen posted another strong performance, hurling four scoreless innings in a combined effort from Zach Girrens (2.1 IP, 4 K), Nick Johnson (1-0) and Cannon Chadwick. Chadwick, who earned his second save in as many nights, relieved Johnson in the bottom of the ninth with one out, picking off Josh Garza and striking out Taylor Walker to secure the win.
The undefeated Bombers continue their four game road trip with a visit to the Woodlands Strykers on Saturday night at 7:05 p.m. The Bombers will open their home schedule against the Cane Cutters on June 3 at Cellucor Field. All Bombers games can be viewed online at www.ustream.tv/channel/brazos-valley-bombers-baseball.
For all your hospitality and ticket information needs call (979) 779 - PLAY or go to www.bvbombers.com. To follow all the news and developments as the Bombers prepare for the 2014 season, visit the website, follow or like us on facebook.com/bvbombers, and follow us on twitter: @BV_Bombers and Instagram: bvbombersbaseball.
###