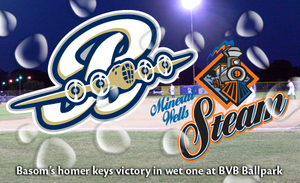 The Brazos Valley Bombers returned home Thursday night and dodged the raindrops for a come-from-behind victory 5-4 over the Mineral Wells Steam, thanks in large part to an eighth-inning solo home run by Will Basom.
Basom's homer was his first of the season and capped a late comeback for Brazos Valley, which took leads of 1-0 and 3-1 before falling behind 4-3 in the sixth inning.
The Bombers jumped ahead in the first when Mark McGonigle singled home newcomer TJ Mittelstaedt. The Steam tied the score in the top of the second off of Brazos Valley starter Casey Whitmer. But the Bombers responded immediately, retaking the lead with a Chris Wallace two-RBI single in the home half of the frame.
The Steam chipped away with single runs in the fourth and fifth innings, then welcomed new Bombers hurler Scooter Hicks with a run in the sixth to take the lead. But Hicks settled down after that, holding the Steam scoreless the rest of the way.
Rain had dominated the evening from the very beginning, delaying the start by nearly an hour, and in the late innings precipitation threatened to shut down both offenses. The Bombers managed to light a fire nonetheless, rallying in the seventh to tie the score. Kyle Sisney took first with a one-out walk, bringing to the plate Mittelstaedt. Sisney, who had struggled in the leadoff position this season before relinquishing the post to the new Long Beach State outfielder, scampered around the bases when Mittelstaedt drove a first-pitch offering for a game-tying double.
The Steam seemed to settle down momentarily after giving up the lead, stranding Mittelstaedt on third to end the inning. In the bottom of the eighth, McGonigle struck out and Joseph Towns grounded out, bringing to the plate Basom, who had been hitless in three prior plate appearances. He drove a 3-1 offering over the right field fence for what proved to be the game-winner.
The Bombers' dampened offense managed just five hits, all by different players. Brazos Valley also managed to swipe five bases from the beleaguered Steam, who fell to 1-7 on the season.
The Bombers and Steam return to Brazos Valley Bank Ballpark on Friday night for Fireworks Friday; after the game, fans will enjoy a spectacular fireworks show, courtesy of College Station Medical Center.