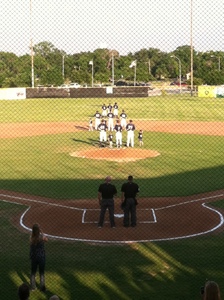 Live music, fifty cent hot dogs, and another display of Bomber domination on the field made for a perfect opening day Tuesday night at American Momentum Bank Ballpark. As a favorite Bomber song says, "good times never seemed so good!"

While the crowd munched on sweet snacks from the new and improved concession menu, the Bombers took the field to defend their #1 rank against the Woodlands Strykers. After a slow first few innings the Strykers were able to get on the board first after Bomber pitcher Brad Vachon walked the leadoff hitter in the top of the third, which later allowed the Woodlands to score on a fielder's choice by Anthony Lozano. As usual, the Bombers turned on the heat and answered by pulling ahead with three runs in the bottom of the inning. First, Patrick McLendon was able to hit home after an overthrown ball at first gave him the safe go-ahead. Later Herb Romero hit a sac fly that allowed another run to come in, followed by a dribbler from Matt Smith that brought in Graham McIntyre.

After the eventful third inning, the game remained quiet until the bottom of the sixth when McIntyre went yard with a 3-run homerun over the left centerfield fence. This increased the Bombers lead to 6-1. In the seventh the Bombers cushioned their lead even further when Brett Kauten got on base on an error and Blake Kopetsky brought him in with a RBI single.

Pitcher Brad Vachon was named the Player of the Game after pitching 7 consecutive innings with only one error, five strikeouts, and one walk. Other pitchers for Brazos Valley included Jason Gareri, who handled the eighth inning, and Shay Maltese, who was able to close the game in the ninth with a swinging strikeout.

The Bombers defend their title again tomorrow night against the Woodlands Strykers at 7:05pm. The evening will also feature Distinguished Student-Athlete Awards for local high school athletes brought to you by Awards & More. Wednesday is also $1 margarita night at American Momentum Bank Ballpark! For all your hospitality and ticket information needs call (979) 779 - PLAY or go to www.bvbombers.com. To follow all the news and developments as the Bombers prepare for the 2013 season, visit the website, follow or like us on facebook.com/bvbombers, and follow us on twitter: @BV_Bombers and instagram: bvbombersbaseball.