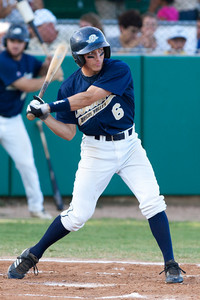 Bombers Edge Strykers 3-2
The Brazos Valley Bombers tonight opened up a three game home stand tonight. They took on their close rival, The Woodland Strykers. The game was very close between the two teams, but another great outing by Kevin Martin help the Bombers earn a 3-2 victory.
The Bombers scored three runs tonight. They scored one run in both the first and second innings and added an insurance run in the eighth. Shortstop Corey Toups got the offense going with a single in the first. Toups moved up to second as the next batter, Catcher Myles Parma also hit a single. Toups would score the first run on a single this time by Designated Hitter James Wharton. Left fielder Brandon Wood would hit a triple to lead off the second inning and come home to score the second run on a double by Right Fielder Bobby Butvin. In the eighth inning, Corey Toups would hit a single and come home to score on a sacrifice fly by Third Baseman Brennyn Smith.
Kevin Martin once again pitched an excellent game on the mound tonight for the Bombers. Martin pitched six innings, allowed no hits, issued three walks, and struck out six batters. Derek Mazzio came in to pitch both the seventh and eighth innings, and allowed one hit while striking out two batters. Franco Pace came in for the ninth and held the Strykers scoreless to seal the victory.
The Bombers will now host the Victoria Generals for two games starting tomorrow. Tomorrow night's game is a Family Friday brought to you by the George Bush Presidential Library! The game will also be Aggie Night w/Bucky Richardson Bobble courtesy of Brazos Bingo! Saturday's game with the Generals is Spirit Night by PowerSports and also a Kids Free Saturday compliments of Chicken Express!