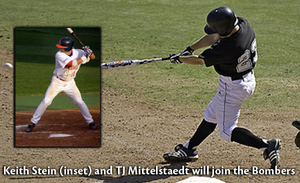 Bryan-College Station, TX (May 31, 2007) – The Brazos Valley Bombers announced today the addition of twelve players to the team, completing the club's inaugural season roster. The Bombers also announced several other roster changes to bring the team's roster to an even 25 players, which includes a pair of provisional short-term players.
The new group includes seven pitchers, two of whom – Dartmouth's Miller Aldrich and Tyler Davis of McNeese State – were all-district players at A&M Consolidated High School. Sam Houston State's Keith Stein, who also enjoyed a standout career at Consol, is joined in the outfield by a former high school All-American from Houston, Mark McGonigle out of the University of New Orleans. A pair of Dirtbags (catcher Kip Masuda and utilityman T.J. Mittelstaedt from the Long Beach State 49ers, affectionately known as the Dirtbags) and UT-Permian Basin first baseman Will Basom round out the newest Bombers.
Stein's name is the most recognizable to Brazos Valley baseball fans. A two-time all-state selection while at Consol, Stein began his collegiate career with two years at Texas A&M, where he batted .311 in 35 starts as a freshman. Prior to his junior year he transferred to SHSU and enjoyed a breakout season, earning a second team All-Southland Conference selection. Stein hit .386 this year, tops on the Bearkats and fourth in the conference, and his 91 hits were second in the league.
McGonigle will also patrol the outfield for Brazos Valley in an attempt to fulfill his sizeable potential. A junior who helped New Orleans to the Sun Belt Conference tournament championship in his first year with the Privateers, McGonigle spent his first two collegiate seasons at the University of Houston. The Houston native was a prep star at Bellaire High School, where he was a three-time all-district outfielder. McGonigle hit an astonishing .534 with 34 RBI as a senior to earn a spot on Collegiate Baseball's pre- and post-season All-America teams, in addition to being named all-state.
Teammates Masuda and Mittelstaedt helped Long Beach State to a top-25 ranking and host of an NCAA Regional after an impressive season in the Big West conference. Mittelstaedt made a successful transition from infield to outfield in his freshman season, batting .296, including .396 in league play with a whopping .577 on-base percentage. Masuda is a sophomore with outstanding receiving skills, as shown in his first summer collegiate experience. The Hawaii native was named the All-ABL catcher as a member of the Alaska Baseball League's Peninsula Oilers in 2006.
Basom is one of the Bombers' short-term players, signed to a provisional ten-day contract while he tries to earn a full-time roster spot. If he has even a fraction of the success he enjoyed this season at Permian Basin, though, Basom is a lock to stick around. A junior who spent his first two collegiate campaigns with Bombers Daman Aaron and Darby Brown at Howard College, Basom hit an incredible .515 this spring with a .736 slugging percentage.
Aldrich and Davis, though a year apart, were both all-district selections at Consol. The older of the two, Davis redshirted last year before taking the field for the Cowboys and registering the second-best ERA on the staff this spring. Aldrich, on the other hand, jumped right into the swing of things as a freshman for the Big Green against their Ivy League opponents.
Also joining the Bombers staff is Baylor's Brice Ary, a reliever from Baylor. A redshirt this year after being used sparingly as a freshman in 2006, Ary showed his potential last summer in the TCL. Coming out of the pen for the Denton Outlaws, Ary registered a miniscule 1.21 ERA, one of just four hurlers with an ERA under 1.50.
Ary is joined by a trio of freshmen: Evan Cox from Arkansas, Clint Helms from Louisiana Tech, and San Jose State's Spencer Snodgrass. Cox has worked out of the pen for an Arkansas squad that will host a regional this weekend. The two-time all-state performer was the MVP of Arkansas state 5A tournament as a sophomore. Helms has redshirted for the Bulldogs but looks to be a solid contributor wherever needed. Like Cox, he can reach the low- to mid-90's with his fastball or even deliver as a hitter. Snodgrass picked up the most experience of the three this spring, appearing in 20 games, 10 of them starts, for the Spartans. A California native, he was a two-time all-district performer who also doubled as a catcher.
The final addition to the Bombers staff is Steven Mohr, who is already familiar with Bombers teammate Scooter Hicks from their time together at Missouri. Prior to joining the Tigers, Mohr excelled with Bombers head coach Kevin Moulder at Forest Park Community College, going 7-0 with a 0.71 ERA in two seasons.
The arrival of new Bombers coincides with the departure of several players who were originally expected to contribute this summer. The most notable is Texas A&M first baseman Darby Brown, whose strong bat was felled by a late-spring wrist injury. Also suffering an injury was Notre Dame freshman outfielder Michael Wright. Pitchers Hunter Carnevale from University of the Pacific and Ryan Perry from Duke will also forego a summer in the Brazos Valley to remain at home and focus on their mechanics.
The Bombers are members of the nine-team Texas Collegiate League, one of the nation's premier summer collegiate circuits. Teams like the Bombers bring minor league baseball-style entertainment to communities throughout the country, giving some of the best college players a chance to further their careers in wood bat leagues in front of Major League scouts.
The Bombers begin their 48-game inaugural season on Tuesday against the Coppell Copperheads. The team's historic home opener will take place next Friday, June 8 when the Bombers welcome the Duncanville Deputies to Brazos Valley Bank Ballpark. Tickets are on sale now by calling or visiting the Bombers ticket office or by logging on to the Bombers' official web site at www.bvbombers.com.