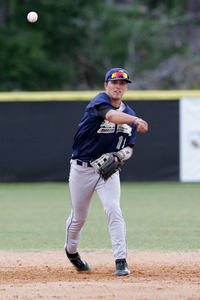 Bombers Look to Close Out June With a Win
The Bombers traveled to central Louisiana tonight to take on the Alexandria Aces as they close out the month of June. The Bombers got a great performance on the mound from Damien Rivera, but in the end could not come up with a win.
After being hitless from the beginning of the game, third baseman, Brennyn Smith broke that up with a single to leftfield. The next batter, shortstop Nick Smelser was hit by a pitch and walked down to first. Catcher Kevin Lamb then came up and laid down a bunt that advanced Smith to third and Smelser to second. Second baseman Corey Toups then came up a lined a single back up the middle that scored Smith. Lead off hitter Myles Parma then stepped to the plate and hit a sacfly to center that scored Smelser. The Bombers would score one run in the top of the eighth inning. Center fielder Quinton Urban came to the plate and beat out a bunt. Urban would eventually come home on a sac fly by designated hitter James Wharton.
Damien Rivera was on the mound for the Bombers. He had a great outing Throwing seven innings and striking out four Aces. Rivera was relieved by Nick Johnson with the bases loaded in the eighth inning. Johnson was able to get out of the eighth. With Johnson on the mound in the ninth, the Aces found some magic as they won the game on an RBI triple.
The defense made two exceptional plays in the game. Early in the game, Rivera picked of an Aces runner at first. Rivera threw the ball to first baseman Brad Porras who relayed it to Smelser who chased the runner down to apply the tag. The other play came in the bottom of the seventh inning. Left fielder Brandon Wood caught a ball off the left field wall and fired to second baseman Corey Toups who tagged the runner out.
The Bombers close out the series with Alexandria tomorrow at 7:05 from Bringhurst Field. The Bombers return home Sunday as they take on the East Texas Pump Jacks for the first Sundae Funday and Baseball Bingo of the season brought to you by Brazos Bingo! The night is also Bye Bye Big 12 Night commemorating the Aggies move to the Southeastern Conference. The McKinney Marshall come to American Momentum Bank Ballpark on Monday for a 7:05 game before the Bombers head to the Metroplex for a series with the Marshalls starting July 4th. Monday's game is a Monday Feast with 50 cent Hot Dogs, Peanuts and Popcorn courtesy of Fedstar Credit Union. Monday is also America's Favorite Pastime night at the ballpark. To get your tickets or learn everything there is about your Brazos Valley Bombers visit
bvbombers.com
or call (979)779-PLAY!