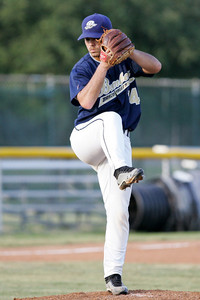 Bombers Look to Next Week's Home Stand for a Chance to Regain First Place
The Brazos Valley Bombers came into tonight's game having beat Alexandria 3-1 the night before in Alexandria. The Bombers came up short in tonight's game falling 4-3 to the first place East Texas Pump Jacks.
Damien Rivera pitched a great game for the Bombers in what was another strong night for both starting pitchers. Tonight's starter pitched seven innings giving up six hits and striking out seven. He came on the wrong side though and picked up his first loss of the season. Lefties Andrew Hohn and Franco Pace came in to pitch the final two innings and each picked up one strikeout respectively.
The Bombers offense was held in check until the seventh inning. Leadoff hitter and second baseman Corey Toups hit a single. Left fielder Brandon Wood then was able to reach first on an error by the Pump Jack second baseman. After a passed ball, both runners moved up to 3rd and 2nd. Catcher Braden Mattson scored the first run on a groundout that brought Toups home. Then first baseman James Wharton stroked a pitch over the left field fence that scored Wood and himself to make the score 4-3 Pump Jacks. The offense would be held in check for the remainder of the game. The Bombers managed just four hits during the game.
The Bombers will look to get back in the win column when they head to Victoria for a game Monday night scheduled to start at 7:05 from Riverside Stadium. They are set to return to American Momentum Bank Ballpark Tuesday to play Victoria and then Acadiana on Wednesday before hosting the Generals again on Thursday. Tuesday's game is a $2 brought you by Fabulous Fare and features $2 Tickets, Beer, Soda and Hot Dogs! Tuesday will also be Crazy Inflatable Night by BOUNCE-A-LOT! The Wednesday game against Acadiana will be Margaritaville Wednesday with $1 margaritas and also Price is Right Night by Cricket Wireless! Thursday's game is 80's night sponsored by the District on Luther and also Thirsty Thursday with $1 beer & soft drinks courtesy of Western Beverages!