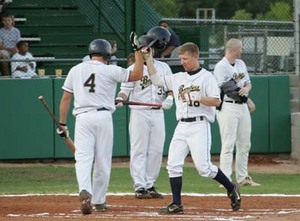 Box Score

On the brink of elimination, the Bombers came up big with a 4-3 win in extra innings against the McKinney Marshals. Bombers starting pitcher John Touchton was nearly untouchable, holding the Marshals hitless for the first four innings on his way to seven scoreless innings of work. Meanwhile, Barbara Nance brought home a half karat diamond after becoming the winner of Montelongo's Fine Jewelry's Diamond Derby.
Nance was one of 25 lucky winners of the annual Diamond Derby, which gave away $7500 in topazes and the diamond before the game. The Bombers quickly jumped out to a 2-0 lead in the first inning on Nick Anders' two-run blast over the left field fence. Touchton was dominant for seven innings, only giving up two hits and striking out five batters and left the game in line for the win.
McKinney finally made their charge in the eighth inning as they scored three runs to tie the game at three. TCL Player of the Year Myrio Richard got the Marshals on board with a two-run triple that scored Joe Oliveira and Mike Walker. Two plays later, Richard scored on Jake Smith's RBI groundout to tie the game.
The Bombers finally came through with win in the bottom of the tenth inning as Anders came through to score on Trey Sperring's RBI fielder's choice. The Bombers will be back in McKinney tomorrow for the finale of the three game series. Jim McGonigle will be on the mound against Michael Bolsinger as the Bombers try to advance to the Championship Round. If the Bombers can advance, they will host Coppell on Fireworks Friday at Brazos Valley Bank Ballpark.