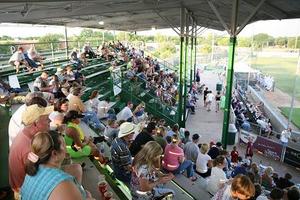 Box Score

In a preview of the first round of the TCL Playoffs, the Brazos Valley Bombers shut out the McKinney Marshals for a 3-0 victory. Making his first appearance of the summer, Brian Watson was outstanding, pitching a complete game shutout to earn the victory.
Danny Hernandez broke a scoreless tie in the fourth inning with an RBI single into left field that scored Nick Anders. The game got a little heated in the bottom of the sixth inning, when Zach Grichor slid home to put the Bombers up 2-0, colliding with Marshals pitcher Ryan Doyle. Infuriated by the play, two of the Marshals assistant coaches stormed onto the field to argue the play with the home plate umpire and were thrown out of the game.
The Bombers provided an insurance run in the eighth inning after Zach Grichor stole second base and advanced around to score on two wild pitches from Drew Evans. The three run lead was all Brazos Valley needed, as they went on to pick up the win.
Watson was in control throughout the game and seemed to get stronger as the game went on. At one point, he retired 11 Marshals in a row on his way to the win. The Bombers will go for the sweep of the Marshals tomorrow on Sterling Auto Sunday Bingo at Brazos Valley Bank Ballpark.