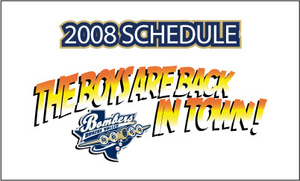 Bryan-College Station, TX (February 20, 2008) – For months, Brazos Valley Bombers fans have been waiting for Opening Day of the 2008 season, preparing for players and promotions old and new. Now, they have a date to circle on their calendars.

The Bombers today announced their schedule for the 2008 campaign, which will open with a stout test colored with a little bit of revenge. Brazos Valley will kick off the season on June 10 with a two-game visit to Coppell against the Copperheads, who knocked off the Bombers in the first round of the playoffs last summer on their way to a second TCL championship.

The two teams shift to Brazos Valley Bank Ballpark on Thursday, June 12, for the Bombers 2008 home opener. The home debut kicks off a six-game homestand in which the Copperheads will be followed by two-game series against the McKinney Marshals and the TCL's newest franchise from Kilgore.

The opening homestand will also give fans a chance to experience every one of the Bombers' weekly promotions, a mix of old favorites and new ideas that has a little something for everyone. The season will kick off with one of last year's most popular promotions, Thirsty Thursday, when fans can enjoy fifty cent small soft drinks and dollar draft beers.

Friday night will again be home to Fireworks Fridays, with a spectacular fireworks show following the game. Saturday will see the return of Giveaway Saturdays, when fans can receive giveaway items like last year's Acie Law bobblehead doll.

New to the promotional lineup this year is a trio of taste-bud tantalizers. Sunday games will feature both hot dogs and soft drinks for just one dollar – not just pre-game or for a limited time, but all game long. Tuesdays are now Kids Eat Free Tuesdays; every child entering the ballpark will get a kids meal absolutely free. And fans will be toasting Jimmy Buffett for Margaritaville Wednesdays, when the Bombers' famous frozen margaritas will be flowing for just two dollars each.

The Bombers also rolled out three new ticket packages for fans who want the same great seats for their favorite promotions. The new ticket packages are:
Family Package – Enjoy all Kids Eat Free Tuesdays, all Friday Fireworks, and all Giveaway Saturdays, a total of 13 games, for just $99.
Party Package – Party at every Margaritaville Wednesday, Thirsty Thursday, and Fireworks Friday, a total of 12 games, for only $99.
Weekend Package – Make your weekends worth the wait with tickets to all Fireworks Fridays and Giveaway Saturdays, giving you eight games at a low price of $65.

All three include reserved seats for every game of the package, so fans are guaranteed to have their seats for each of their promotional games, with no waiting in line at the ticket office. New ticket packages can be purchased online at bvbombers.com, by phone at (979) 779-PLAY, or by visiting the Bombers offices at 405 Mitchell Street in Bryan.

The Bombers' 48-game season will feature 25 games at Brazos Valley Bank Ballpark because of a bonus home game against the Marshals, and 23 road contests. This year's schedule includes three different six-game homestands as well as three six-game road trips. The campaign will close the weekend of August 2 and 3, with a two-game series against McKinney.

The TCL playoffs will follow an August 4 off day, opening with the best-of-three opening round August 5 to 7. In the opening round of the playoffs, the regular season champion will face the fourth place team, and the second- and third-place finishers will face off.
The two winning teams will battle in the TCL Championship Series from August 8 to 10.

In addition to the new ticket packages, season tickets for the Bombers 2008 campaign are currently on sale. Founder's Club seats, the front row seating that includes in-your-seat-wait service, are available, as are reserved seats in the main grandstand. The team has also created two new season ticket options. Reserved Plus will offer fans comfortable, contoured seats in the first several rows of the grandstand, while general admission season tickets – with both adult and child/senior/student prices – are the most affordable way to enjoy all the fun of Bombers baseball. Season tickets may be purchased online at bvbombers.com, by phone at (979) 779-PLAY, or by visiting the Bombers offices at 405 Mitchell Street in Bryan.

About the Brazos Valley Bombers
The Bombers are members of the Texas Collegiate League, one of the nation's premier summer collegiate circuits. Teams like the Bombers bring minor league baseball-style entertainment to communities throughout the country, giving some of the best college players a chance to further their careers in wood bat leagues in front of Major League scouts. The Bombers 48-game season begins on June 10 and runs through August 3, followed by the TCL playoffs and a championship series. Season tickets for the 2008 season are now on sale. More information is available by calling the Bombers ticket office at (979) 779-PLAY, visiting the Bombers office in Bryan, or logging on to the Bombers' official web site at www.bvbombers.com.
# TCL #