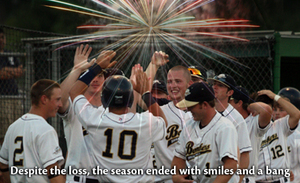 Even fairy tales have to end sometime.
The Brazos Valley Bombers magical inaugural season, in which they blossomed from an intriguing idea into an exciting reality, concluded Tuesday night with a 4-0 loss to the Coppell Copperheads in Game Two of the Speaker Division Series of the TCL playoffs. With the decision, the Copperheads won the best-of-three series by a 2-0 margin and advanced to the TCL Championship Series.
But in true Bombers fashion, a raucous crowd stayed to the very end, cheering on their new summertime favorite and enjoying promotions and fireworks the entire evening.
Prior to the game, Brazos Valley teamed with Montelongo's Fine Jewelry and Candy 95 to give away nearly $7,500 in gemstones in the "Diamond In The Rough" promotion. All women in the crowd 18 years of age and older were invited onto the field in a contest that gave away 19 "Bomber Blue" topaz stones worth $250 each. But what sent them scrambling like mad in the Brazos Valley Bank Ballpark outfield was the grand prize, a ½-carat diamond worth $2,500.
Following the game, the Bombers faithful stood and watched a spectacular fireworks display with a soundtrack that boasted highlights from the inaugural season.
Between the "Diamond In The Rough" and the fireworks, the Bombers fought to stay alive in their first-ever playoff appearance, but to no avail. The two teams remained scoreless through four innings before the Copperheads picked up a run in the fifth off of starter John Touchton. An inning later, Brandon Belt turned on a Touchton offering for a two-run homer, extending the Coppell lead to 3-0.
Touchton turned in a performance worthy of a team's top starter, going six innings and allowing two earned runs on four hits and no walks. He struck out six Copperheads.
Bombers closer Tyler Davis came on the seventh and pitched the final three innings. Davis gave up a pair of hits and one run, walking one and striking out two.
The Copperheads used four pitchers to hold the Bombers to six hits and two bases on balls. Mark McGonigle and Joseph Towns each went 2-for-4 on the night. Will Basom and Ryan Weber also posted a hit apiece, while TJ Mittelstaedt and Keith Stein each earned a walk.
The loss concludes the Bombers season and sends Coppell to the Championship Series to face the McKinney Marshals. Brazos Valley will soon begin preparations for next season, contacting potential players, speaking with season ticket holders and sponsors about next year, and laying out a new promotional schedule.
And then a new fairy tale can begin.