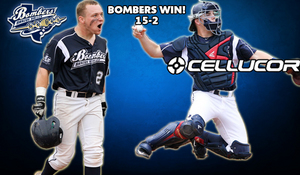 Bombers All Bite on Pets in the Park Night
Bombers Sweep Strykers for Sixth Consecutive Victory
Bryan-College Station, TX (June 28, 2015) - After a thrilling walk-off win in last night's ballgame, the Brazos Valley Bombers blasted the Woodlands Strykers tonight by a score of 15-2 on Pets in The Park Night at Cellucor Field.
The Bombers pounced on the Strykers for 6 runs in the first inning, chasing the Strykers starting pitcher after 2 outs in the first. The Bombers did not let up from there, scoring eleven more runs throughout the game to defeat the Strykers by a score of 15-2. Second baseman Jimmy Norris hit his first home run of the season and catcher Henri Lartigue hit his second home run of the season.
Tonight's win is the sixth in a row for the Bombers, improving their record to 18-4 this season. The Bombers have already clinched the first-half championship and home-field advantage in the TCL playoffs in August.
The Bombers have tomorrow off before beginning a two-game homestand on Tuesday, June 30 against the Texas Marshals with 50-cent Beer Night, thanks to Spartan Tutoring. Tuesday night is also Trophy Tuesday when the Bombers will honor local community members for their recent accomplishments. Wednesday night will be Salute the Troops Night, sponsored by Sarge's Moving, with special patriotic jerseys to be worn by the Bombers. That night will also be Weenie Wednesday, with 90-cent hot dogs to celebrate the 90th Anniversary of Citizen State Bank. First pitch for both games is scheduled for 7:05 p.m.
For tickets and information on how to see the Bombers during the 2015 season, please call (979) 779-PLAY, or go to www.bvbombers.com. To follow all upcoming news and developments for the Brazos Valley Bombers, follow or like us on facebook.com/bvbombers, and follow us on Twitter: @BV_Bombers and Instagram: bvbombersbaseball.