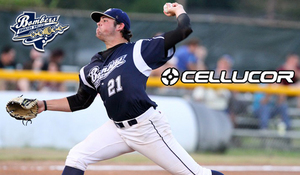 Bombers Deliver Executive Performance on "Like A Boss" Night
Bombers Dominate Marshals, Open Homestand With Resounding Win
Bryan-College Station, TX (June 23, 2015) - After a two-game road trip last weekend, the Bombers returned home to a raucous crowd at Cellucor Field for "Like A Boss" Night, presented by Burger King, and Trophy Tuesday. The Bombers were able to exert their will on the Marshals all night long, winning by a margin of 16-2.
The boys in Navy Blue and Vegas Gold scored in every inning tonight, except the 6th and 8th innings, highlighted by a five-run fifth inning in which the Bombers batted around. Nearly every Bomber to come to the plate had a hit tonight; led by first-baseman and clean-up hitter, Geonte Jackson. Jackson went 3-4 with a walk, 3 runs scored and 4 RBI.
Starting pitcher Austin Kerns was named Cellucor Player of the Game in his final outing for the Bombers this season. Kerns was masterful in six and one-third innings, only allowing two runs on six hits and one walk with five strikeouts. The Bombers improved their league-best record to 13-4 while extending their lead to 2.5 games over second place Acadiana.
The Bombers cap the two-game series and homestand against the Texas Marshals tomorrow night on Weenie Wednesday, with 90 cent hot dogs to celebrate Citizen State Bank's 90th Anniversary; and Faith and Family Night, presented by Batteries + Bulbs.
For tickets and information on how to see the Bombers during the 2015 season, please call (979) 779-PLAY, or go to www.bvbombers.com. To follow all upcoming news and developments for the Brazos Valley Bombers, follow or like us on facebook.com/bvbombers, and follow us on Twitter: @BV_Bombers and Instagram: bvbombersbaseball.