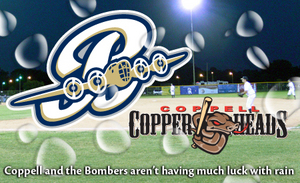 The Brazos Valley Bombers announced that today's doubleheader in Coppell against Copperheads has been postponed due to foul weather. The date was originally scheduled to be a single game, but it became a doubleheader to make up the June 5 contest in Coppell that was rained out.
One game from the doubleheader will be made up the next time the Bombers visit Coppell on July 26, which will make for a twinbill starting at 5:05 pm. Because the remainder of the season is already a tight squeeze due to prior rainouts, the second game of tonight's doubleheader will be cancelled outright.
Brazos Valley is still scheduled to go on the road Tuesday for a key divisional game against the Duncanville Deputies.
The Bombers will return to Brazos Valley Bank Ballpark to celebrate America on Wednesday, July 4, with a special mid-week afternoon game. The first 500 fans will receive mini American flags and Skydive Aggieland will be parachuting into the ballpark with the American flag and the first pitch ball.
The team will go back on the road to finish out the week, followed by a four-day break for the TCL All-Star Game. The team will return home for a blockbuster three-game stretch at home, featuring Thirsty Thursday on July 12, Fireworks Friday on July 13, and Bombers T-shirt Giveaway Night on July 14.