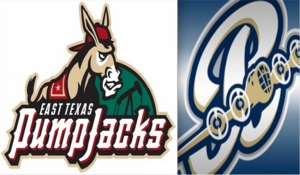 Bombers' Resiliency Leads to Victory in 14-Inning Marathon
Bombers' Earn Series Split, Regain Momentum
Tyler, TX (June 7, 2015) - Tonight's clash between the Brazos Valley Bombers and the East Texas PumpJacks was a test of endurance, stamina, and will. Lasting 14 innings and just under five hours, this was the longest game to this point of the season for the boys in Navy Blue and Vegas Gold.
The Bombers fell behind 2-0 early, but clawed their way back to tie the game in the 6th inning. The Bombers scored again in the 7th to take a 3-2 lead. The Bombers were two strikes away from closing out the game in the 9th inning before allowing a run that would send the game to extra innings.
Four consecutive scoreless innings on both sides pushed the game to a 14th inning, where the Bombers would put two runners in scoring position before a column of lights went out, forcing a 20-minute delay in the action. The delay did not seem to affect the Bombers as both of those runners would later score once the game resumed. The Bombers would then have another attempt to close out the game and this time they were successful, defeating their division rivals by a score of 5-3.
Pitcher Andre Shewcraft played a major role in the Bombers' early comeback, pitching three and two-thirds scoreless innings and retiring 10 straight PumpJacks hitters at one point. Second baseman Jimmy Norris scored a run and stole three bases to help energize the Bombers offense.
The Bombers' record now sits at 5-1 and the two-time defending Champions of the TCL will have two days off before hitting the road again to take on the Texas Marshals for a doubleheader on Wednesday June 10. After the doubleheader, the Bombers will return home to Cellucor Field to begin another four-game homestand on Thirsty Thursday, June 11, presented by Western Beverages. First pitch for that game will take place at 7:05 pm.
For tickets and information on how to see the Bombers during the 2015 season, please call (979) 779-PLAY, or go to www.bvbombers.com. To follow all upcoming news and developments for the Brazos Valley Bombers, follow or like us on facebook.com/bvbombers, and follow us on Twitter: @BV_Bombers and Instagram: bvbombersbaseball.