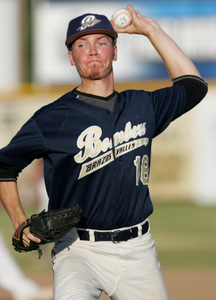 The stands of American Momentum Bank ballpark were filled with fathers and families on Sunday afternoon to celebrate father's day with some Bombers baseball excitement. The Bombers, who are undefeated at home, took down the Acadiana Cane Cutters 3-1 to take their fifteenth victory of the season.
The Bombers got on the board early when Herb Romero was hit by a pitch in the bottom of the first and was later brought in on a single by G.R. Hinsley. In the top of the third the Cane Cutters replied by evening the score at one all. In the bottom of the fourth, Hinsley extended his hitting streak by smacking a double to right, then later coming home on a pass ball. Brazos Valley added another one to the board in the bottom of the sixth when Blake Kopetsky got to first on a fielder's choice then was brought in on an error by the first baseman.
Pitcher Michael Walker was named Player of the Game after earning the win by throwing seven innings with only one run and three strikeouts. Nick Johnson threw in the eighth and only allowed one hit with one strikeout. Andrew Hohn and Shay Maltese also made appearances on the mound for Brazos Valley, each also racking up one strikeout a piece.
The Bombers return to American Momentum Bank Ballpark next Saturday, June 22 to face the Victoria Generals at 7:05pm. For all your hospitality and ticket information needs call (979) 779 - PLAY or go to www.bvbombers.com. To follow all the news and developments as the Bombers prepare for the 2013 season, visit the website, follow or like us on facebook.com/bvbombers, and follow us on twitter: @BV_Bombers and instagram: bvbombersbaseball.