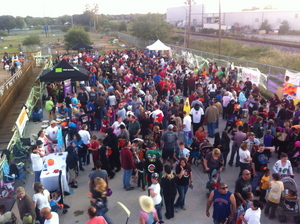 The Fourth Annual BooFest at the Ballpark presented by FedStar Credit Union again surpassed all expectations. For the second consecutive year over 3,000 people came filing through the gates of Brazos Valley Bank Ballpark. Trick or treaters were lined up at the gates when the event kicked off and kept the ballpark buzzing throughout the night.
Children had the opportunity to trick-or-treat at 40 booths sponsored by local businesses from around the Brazos Valley, stocked with candy provided by your local Kroger stores. Each booth featured a fun activity to entertain the kids, including Witch Golf, Inflatables and Find the Eyeball. Connecting Point Church was a prominent booth throughout the night, giving away prizes in addition to candy and games. The costume contest had a large number of impressive entrants, with winners taking home a variety of Bomber prize packs and other rewards provided by local businesses.
It was a fantastic family experience as children from all around the community were treated to an entertaining night at Brazos Valley Bank Ballpark. The Bombers would like to thank all their sponsors, volunteers, Alpha Phi Omega, and everyone who made this memorable night a huge success.
View photos from BooFest 2011