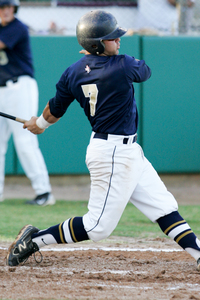 The Bombers dropped a nail-biter on Wednesday night, falling to the East Texas Pump Jacks in the 9th inning, while fans collected the fourth of six Angry Birds bobbleheads. They'll look to bounce back from their 4-3 loss on Thursday night in their series finale.
The Bombers got themselves into some trouble early on, falling behind 3-0 before evening the score at 3-3 in the 6th inning. A pair of singles by Scott Arthur and Jordan Hammerman set the table for Casey Dykes' 2-run double, who later came around to score on a wild pitch.
East Texas' Tyler Girouard led off the 9th inning with a single, and ended up scoring a run on a wild pitch by Alec Mills to put the Pump Jacks up 4-3. The Bombers threatened in the bottom of the 9th, as Matt Milligan led off the inning with a single. John Hale came on as a pinch runner, advancing to second base on a bunt by John Cannon, but flamethrower Jason Jester of the Pump Jacks sent down the next two Bombers on strikeouts to close the game and get the win.
Standouts for the Bombers included the aforementioned Casey Dykes, who is really heating up in anticipation of the Cricket Wireless TCL All-Star Game. Matt Milligan notched two hits, and John Cannon went had a hit and a stolen base on the evening.
The Bombers will try to avenge their loss tomorrow against the TCL leaders, before heading to Acadiana to take on the Cane Cutters in their final series before the All-Star break. Thursday night is Chili's Pepper Night at Brazos Valley Bank Ballpark, where the first 100 fans will receive a coupon for FREE chips and queso at the restaurant. It's also the fourth Thirsty Thursday of the season, where fans can enjoy $1 beer and soft drinks all night long. The Bombers will then play host to the Cricket Wireless TCL All-Star Game on Monday, where the best and the brightest players in the TCL will come together in an epic clash of the teams from the North division and the South division. Tickets start at just $5 for the game, and more information can be found at www.bvbombers.com