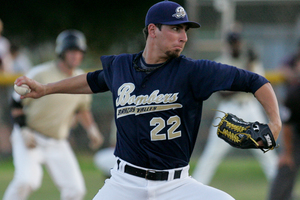 The Bombers' hot streak continued on Friday night as the team beat the Alexandria Aces 5-2 at Brazos Valley Bank Ballpark. While fans participated in an auction of Bombers jerseys, the team played another solid baseball game on all fronts. The team has won 5 of their last 6 games, and show no signs of cooling off anytime soon.
The Bombers' win was fueled by another stellar effort on the mound by the pitching staff, and the offense put up enough runs to cruise to the win. Starting pitcher Jake Moser used his breaking ball to set up his fastball, and located all of his pitches well in his 7 innings of 2-run baseball. Garrett Shepperd came on in the 9th to record the save, and Casey Dykes had a 3-4 day at the plate with a pair of RBI.
Tomorrow night the team wraps up their home-stand with the Aces with Bark in the Park night, where fans' favorite pooches will get into the ballpark for free. It will also be the first Kids Free Saturday of the season, and kids will get free entrance to the park, as well as food and tickets to the UPA Kids Zone. The Bombers will have Sunday off before their week-opening series with the Coppell Copperheads. At the game Monday night the Bombers will honor the Fathers in attendance, allowing them to play catch on the field with their kids, and giving away game-used baseballs to the first 100 fans in the park. Tuesday's game brings Cars Night, featuring a giveaway of cars from the new Pixar movie, Cars 2, and movie tickets to see the film thanks to Aamco Transmissions and Total Car Care.