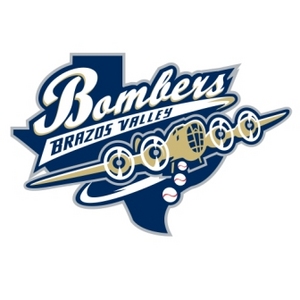 The Brazos Valley Bombers announced the highlights of its season schedule today as they prepare for the 2010 campaign. In addition to the expansion franchise, the league will be expanding its schedule from 48 to 56 games with a split-season format, and the Texas Collegiate League All-Star game will make its return after a two-year absence.
Three years after the Bombers premiered in the TCL as an expansion franchise, the league is still making additions each year. The East Texas Pump Jacks joined in 2008, followed in 2009 by the Victoria Generals, whose ownership group also purchased the rights for an expansion team for the 2010 season.
The Bombers will begin play on June 2, with the season coming to a close on August 7, followed by the TCL Playoffs. As a part of the Bombers 28-game home schedule, they will engage in two-game series, with Sunday serving as the league-wide day off.
The split-season format is new to the Texas Collegiate League, but is not uncommon in minor league baseball. At the midpoint of the season, the league will crown a first-half division champion. All win-loss records are then reset to 0-0 for the second half of the season. The team with the league's best record in the second half will be named the TCL's second-half division champion.
The split-season format enables teams that struggle in the beginning of the season to still have an opportunity to make the playoffs if they finish the season strong. With players unavailable early in the season at times due to the NCAA playoffs, this situation becomes logical for summer league baseball.
The first and second half champions will square off in the TCL playoffs with two wild card opponents- the teams with the next best records- in the divisional round, which is a best-of-three series. The winners will then face each other in the TCL Championship with an opportunity to claim the title crown.
The TCL All-Star Game returns after a two-year absence and is scheduled for July 5 in Victoria, home of the Generals. The game will give the Bombers and the rest of the league an opportunity to showcase its top players in front of fans, scouts and media from around the state.
The full season schedule will be announced shortly and will be available for download from the team's official website, www.bvbombers.com.