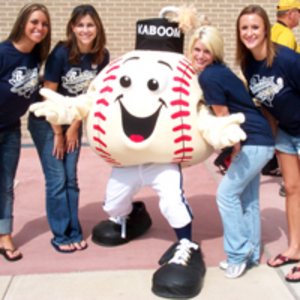 The face of the Brazos Valley Bombers has just become a little bit more visible. The Brazos Valley Bombers announced today that the "Ambassador of Fun" will begin blogging in an effort to keep fans up-to-date on his countless daily activities. His blog can be found at thelifeofkaboom.blogspot.com.
KaBoom can be seen regularly around the Bryan-College Station, whether it be at local elementary schools, the movie theatre, or even Wings 'N More. Always an active member in the community, KaBoom is very excited for the opportunity to share his day-to-day activities with the fans.
KaBoom would also like to thank all his fans for supporting him during his time of need. Last month, he underwent multiple surgeries to repair damage is to his belt and shoes, as well as reconstructive eye surgery and a fusal replacement operation.