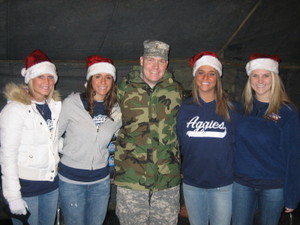 The Bombers and Equicom Radio are braving the cold and the rain to begin the first day of Radio M*A*S*H. The 23rd Annual Toy Drive began bright and early this morning at 6:00 and is already off to a great success.
Radio M*A*S*H will run through Monday morning at 10:00, and nothing will stop the Bombers from collecting toys and money for under privildged children in the Brazos Valley.
The Bombers will be handing out Thank-You cards and candy canes to all friends and families who help out with this great charity event.
So, come brave the cold with the Bombers and make a smile happen for a child this Holiday Season.