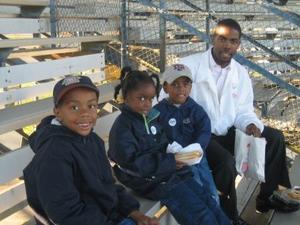 Everyone that attended the event put their business card into a drawing for Bombers Merchandise. The Giveaway winners were:
Dan Waskow, Superior Auto Service - Official Bombers Hat
Matthew Chalmers, Northwestern Mutual - Official Bombers Polo
Travis Rollins, Texas Entertainment - Official Inaugural Season BV Bombers Bat
and the Grand Prize Winner, Manual Gonzales of Sterling Auto Group received two Season Tickets for the upcoming 2007 Inaugural Season!
The Bombers would like all of those who helped make the event possible, Kristen Distributing, Coca-Cola, Readfields Meats, Sound Solutions, Alpha-Lee Enterprises, & Peguin Flying Ice. We would also like to thank the Chamber of Commerce and all the Chamber Members for a great event!