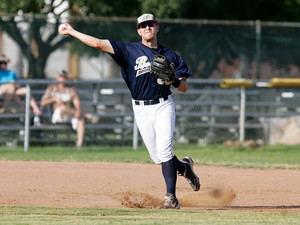 Bryan-College Station, TX (June 17, 2014) – The Brazos Valley Bombers dropped their first of two road games at Riverside Stadium on Tuesday night, losing to the Victoria Generals 7-4.
"We didn't bring our best game tonight, but you give them credit," said Curt Dixon, Bombers head coach. "They came out and hit hard and put the ball in play and found holes, and came through when runners were in scoring position."
The Generals jumped out to a 2-0 lead in the first inning, but the Bombers would load the bases in the second inning and walk in designated hitter Hunter Haley for their first run of the game.
The Generals answered back with two more runs in the bottom of the third to extend their lead to 4-1. Both teams were scoreless in the fourth before the Generals capitalized on an error in the fifth inning, eventually bringing in three more runs.
The Bombers attempted to respond in the eighth inning when third baseman Ryan Roderick brought in center fielder Matt Hilston, cutting the deficit to 7-2. Hilston would then pair with second baseman Jimmy Norris in the ninth inning to give the Bombers two more runs on a pair of singles, but the difference proved too great as the Generals went on to clench a 7-4 win at home.
Relief pitcher Andre Shewcraft provided a strong performance in his 3 2/3 innings of work, holding the Generals scoreless in the last four innings of the game.
"[When it's] 7-2, some teams go out there and just go through the motions, but we didn't," Dixon said. "Andre came out of the pen and just kept grinding away late— [we] scratched a few runs across, had the bases loaded there in the eighth inning, so it was good to see that fight and good to see that outing from Andre."
Game two against the Generals will be played at Riverside Stadium Wednesday night at 7 p.m. The Bombers will then return to Cellucor Field on June 19 for a four game home stand.
For all your hospitality and ticket information needs call (979) 779 - PLAY or go to www.bvbombers.com. To follow all the news and developments during the Bombers' 2014 season, visit the website, follow or like us on facebook.com/bvbombers, and follow us on twitter: @BV_Bombers and Instagram: bvbombersbaseball. All Bombers games are available for viewing FREE online at www.ustream.tv/channel/brazos-valley-bombers-baseball.