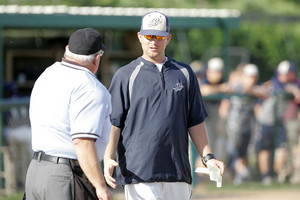 Bryan-College Station, TX (June 15, 2014) – The Brazos Valley Bombers (12-4) split a Sunday doubleheader with the Woodlands Strykers (5-10), rebounding with a 4-1 win after suffering a 7-1 loss in the first game to give head coach Curtis Dixon his 100th victory as part of the team.
"In the first game, you have to give credit to Andrew Godail—he beat us," Dixon said. "The good thing is we didn't have to wait a whole day to play the next one. We [were able to] wait 30 minutes and see how we responded, and we responded well."
The Bombers were unable to match the Strykers' offensive output in the first game, giving up eight hits in the first six innings of the abbreviated seven-inning game. First baseman G.R. Hinsley netted the team's only RBI of the game, tying himself for fourth in the league with 12 RBIs on the season.
The Bombers returned to their proven recipe for success in game two, combining solid pitching with timely hits and stolen bases.
After taking a 1-0 lead in the fourth inning, starting pitcher Cody Brannon faced a bases loaded jam in the top of the fifth with one out. Brannon forced a pop fly to left field by Matt Sanchez that was caught by left fielder Ford Moore, who then threw a tagging Kevin Santana out at home to end the Bombers' danger.
The Bombers would add three more runs in the sixth inning thanks to a trio of singles by third baseman Kolbey Carpenter, right fielder Blake Kopetsky, and Moore to solidify their lead and ultimately win the rubber match of the two teams' three game series.
Rudder High School alum Blake Kopetsky was named the Bombers player of the game, going 2-for-3 with a triple and a pair of RBIs. Kopetsky said that he wished the team had been perfect throughout their five game home stand, but was pleased to come away with a win in the team's final outing before hitting the road again.
"You want to win them all, but coming through and splitting tonight—it's not a bad deal," Kopetsky said.
The Bombers will have an off day Monday before traveling to Victoria, Texas for a critical two game series against the Victoria Generals. They then return home for another four-game home stand on Thursday beginning with a two-game series against the Strykers.
For all your hospitality and ticket information needs call (979) 779 - PLAY or go to www.bvbombers.com. To follow all the news and developments as the Bombers prepare for the 2014 season, visit the website, follow or like us on facebook.com/bvbombers, and follow us on twitter: @BV_Bombers and Instagram: bvbombersbaseball. All Bombers games are available for viewing FREE online at www.ustream.tv/channel/brazos-valley-bombers-baseball.