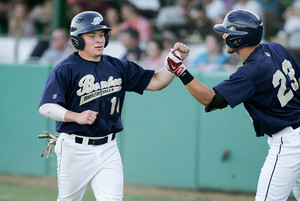 Bryan-College Station, TX (June 8, 2014) – Rebounding from Saturday night's loss, the Brazos Valley Bombers (7-3) downed the East Texas Pump Jacks (4-6) 2-0 Sunday night to split the opening leg of their four-game road trip 1-1.
In the top of the first inning, Bombers first baseman G. R. Hinsley advanced to first on an error enabling designated hitter Hunter Haley to score. The 1-0 lead would be all the Bombers would need behind a shutout performance from their pitching staff.
"Jake came out and was nails all night," said Curtis Dixon, Bombers head coach. "I couldn't have asked anything more out of him. We needed to respond. It's not easy to play [in this environment.]"
Bombers starting pitcher Jake McDavid (2-0, 0.00 ERA) went seven innings and held the Pump Jacks to just one hit to secure his second win of the year. McDavid has yet to surrender a run in 12 1/3 innings of work this season.
In the top of the ninth, left fielder Blake Kopetsky grounded out to first bringing in designated hitter Hunter Haley to score the final run of the game. The Bombers lineup posted only three hits, but all were for extra bases. Dixon said he was pleased with his team's approach at the plate, and believes the team's offensive output will continue to improve as the season goes on.
"Some of these kids have been off a month, and it takes time coming back," Dixon said. "Tonight there was a lot of solid contact, and that's your first sign of getting things going."
The Bombers will return to Bryan Monday for an off day before heading to the Woodlands on Tuesday to play a two game series against the Woodlands Strykers. The Bombers will then return home Thursday to play the first game of a four-game home stand.
For all your hospitality and ticket information needs call (979) 779 - PLAY or go to www.bvbombers.com. To follow all the news and developments as the Bombers prepare for the 2014 season, visit the website, follow or like us onfacebook.com/bvbombers, and follow us on twitter: @BV_Bombers and Instagram: bvbombersbaseball. All Bombers games can be viewed online at www.ustream.tv/channel/brazos-valley-bombers-baseball.
###