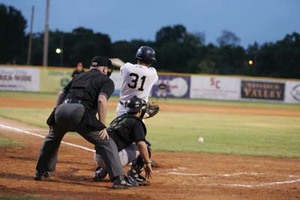 Box Score

The Brazos Valley Bombers began their road trip to Kilgore in good fashion, defeating the Pumpjacks 8-6 to collect their second consecutive victory. The Bombers trailed 6-4 in the eighth inning, but strung together four runs to come from behind and take the lead. Steve Horlacher pitched two scoreless innings in his second game with the Bombers to pick up his first save in a Bombers uniform.
The Bombers began the game with two quick runs as Zach Grichor and Nick Anders scored on wild pitches, but the Pumpjacks scored three runs in the first two innings off John Touchton to take the 3-2 lead. Brazos Valley tacked on two more runs in the top of the seventh inning to take back the lead, 4-3, but East Texas came right back with three runs on three hits in the bottom of the seventh.
Trailing 6-4 heading into the eighth inning, the Bombers pieced together four hits and four runs, including Zach Grichor's two-RBI single that put the Bombers ahead for good. Horlacher pitched the final two innings without giving up a run to seal the deal for the Bombers, who improved to 19-25 with the win.