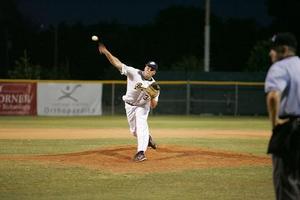 Box Score

With the crowd clapping and on their feet, Dustin Rasco came in for the ninth inning and finished the off the Coppell Copperheads to collect his TCL record-tying 9th save. The Bombers took the lead in the eighth inning on Taylor Zambreski's sacrifice fly and held the lead to pick up the win.
The Bombers scored in the second inning on Trey Sperring's RBI single that knocked in Danny Hernandez. The RBI was his 18th of the season and gave the Bombers the 1-0 lead. The Bombers added another run in the fourth inning on Freddy Carmona's double that scored Zambreski. Michael Pair finally got the Copperheads on the board in the bottom half of the fourth, as he drove Jacob Liedka's pitch over the left field fence for a home run.
Danny Hernandez provided a clutch RBI Double in the fifth inning to extend the lead to 3-1. The two-out knock scored Nick Anders and gave the Bombers the two run lead, but Coppell scored two runs in the top of the eighth inning to tie the game off Steve Horlacher. Horlacher, making his debut for the Bombers, struck out the side in the inning, but gave up a two-run single to Andrew Prince with two outs in the inning.
Anders and Hernandez began the bottom of the eighth inning with singles and advanced on Cliff Vaughn's sacrifice bunt. Zambreski followed by driving the first pitch into center field, deep enough to allow Anders to score on the sacrifice fly and give the Bombers the 4-3 lead.