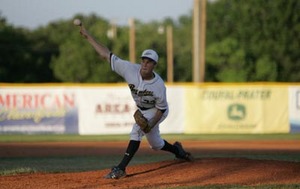 Box Score

The Brazos Valley Bombers looked to be on their way to an impressive victory, as they took a 5-0 lead after five innings, but were unable to hold on as the Marshals scored ten unanswered runs to win 10-5. Jim McGonigle was in the zone early on and breezed through the first three innings without allowing a hit, but the Marshals used a six run fourth inning to take the lead for good.
Todd Cunningham reached base four times in his second game back from injury, but the Bombers were unable to overcome the eleven hits and ten runs put across the board by the Marshals. McGonigle gave up eight runs in just over four innings to pick up his first loss of the season.
The Bombers will try to get back on track this week as the Coppell Copperheads come to town on Tuesday for Kids Eat Free Tuesday and Margaritaville Wednesday. Sam Strickland will be on the mound for the Bombers on Tuesday as they go for their 18th win of the season.