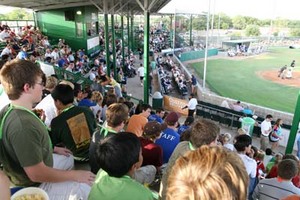 Box Score

Brazos Valley Bank Ballpark was hopping with excitement on College Station Orthopaedics Fireworks Friday as a TCL Record 1,684 fans filed in to watch the Bombers battle the East Texas Pumpjacks. The Bombers had the lead early, but were unable to hold on as they lost 5-4 in a heartbreaker.
The Bombers trailed 1-0 entering the third inning, but came through with a huge inning to take a 4-1 lead. With runners on the corners, Nick Anders hit a sharp single up the middle, scoring Chad Colbert to tie the game at one. One pitch later, Danny Hernandez put the Bombers on top with a two-run triple to deep center field. He then scored on Cliff Vaughn's groundout to extend the lead to three runs.
Eric Udell brought the raucous crowd to their feet in the fifth inning with a pair of great defensive plays.
The Pumpjacks seemingly had another run on the board as Adam De Le Garza singled to right field, but Brian Nelson's throw to the plate was right on the money to Udell. Keenan Duke collided full force with Udell and the two came crashing to the ground, but he still held onto the ball to get the out and save the run from crossing the plate. The crowd roared in approval for the tough effort from the catcher. The next play, Udell threw out De Le Garza as he attempted to steal second base.
East Texas came back with four runs in the top of the sixth inning, taking advantage of two Bomber errors to take the 5-4 lead. Despite the Bombers' efforts, the Pumpjacks were able to hold on for the 5-4 win. The Bombers will be heading on the road tomorrow to face the first-place McKinney Marshals in the first of a two game series.