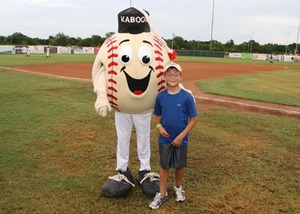 Box Score

The Brazos Valley Bombers lost the first game of the series at Brazos Valley Bank Ballpark, falling to the East Texas Pumpjacks 6-5. Jacob Liedka pitched six effective innings, allowing six hits and three runs, but was only able to receive a no-decision after Dustin Rasco blew the save. Although he struggled in the first two innings, Jacob Liedka bounced back on track and pitched effectively the rest of the way.
The Pumpjacks got the early jump on Jacob Liedka in the first inning, as Josh Riley hit a three run home run over the left field fence. Liedka ran into more trouble in the second inning, but with the help of a few spectacular defensive plays by Danny Hernandez and Nick Anders, was able to get out of the inning without allowing any runs.
Brazos Valley got on the board in the third inning, as Danny Hernandez lined a shot into left field to knock in Nick Anders. The score stayed the same until the fifth inning, when the Bombers finally got in business. With the bases loaded, Cliff Vaughn hit a sharp ground ball down the left field line, scoring Taylor Zambreski and Nick Anders to tie the game. Later in the inning, Danny Hernandez scored from third base on Adam De Le Garza's error to give the Bombers the 4-3 lead. With two outs in the inning and the bases loaded again, Brian Nelson singled to center field, scoring Cliff Vaughn. Drew Thomas tried to score from second base, but J.D. Dunn's throw to the plate was right on the money and Thomas was called out at the plate to end the inning.
The Pumpjacks were able to cut the lead to 5-4 in the seventh inning on Danny Hernandez's error, which scored De Le Garza. Paige Hodges hit a Texas Leaguer into shallow left field that dropped after Hernandez collided with Taylor Zambreski. In the ninth inning, Garrett Smith singled to begin the inning and the rally for the Pumpjacks. Pinch runner Keenan Duke advanced to second base on De Le Garza's sacrifice bunt, third on a wild pitch, and then scored to tie the game on a passed ball. With the score tied, Hodges doubled to score Pat McCrory from first base for the go-ahead run. Matt Shelton then sealed the win for the Pumpjacks in the bottom half of the ninth inning, striking out the side.
The Bombers face East Texas again tomorrow night on Fireworks Friday, presented by College Station Orthopaedics. John Touchton will be on the mound for the Bombers, making his season debut.