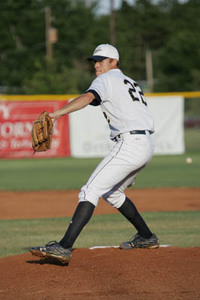 Box Score

The Brazos Valley Bombers began their four-game series with the East Texas in strong fashion, defeating the Pumpjacks 9-1. The win moves the Bombers to within four games of TCL leader McKinney, who lost to Coppell tonight by a score of 5-4. Kip Masuda had another outstanding game for the Bombers, collecting three hits and knocking in a season-high five runs.
The Bombers got hot early, as they quickly scored six runs in the first two innings to take a 6-1 lead. Masuda had a two-RBI single in each of the first two innings to pace the Bombers, who scored nine runs on nine hits in the game. The five run cushion was all the Bombers would need, as Jim McGonigle pitched six dominating innings to improve to 3-0 on the season. McGonigle allowed just five hits and one run, while striking out five Pumpjacks hitters.
Jonathon Conrad was nearly perfect in relief, allowing just one hit and n o runs in three innings of work. With the Bombers bullpen depth thin at the moment, his effort was pivotal in allowing other relief pitchers, such as Travis Dirk and Jason Zylstra to get some much needed rest.
Former Bombers Clint Helms struggled on the mound for East Texas, allowing seven runs, and was pulled out of the game after pitching just over three innings. Sam Strickland will be on the mound tomorrow for the Bombers as they look to win their second straight over the Pumpjacks. Bomber fans can tune in live to bvbombers.com and listen to Adam Cain's play-by-play broadcast of the game.