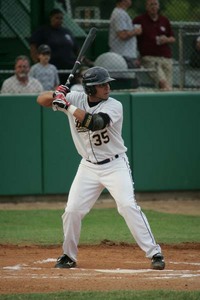 Bos Score

The Brazos Valley Bombers fell to the McKinney Marshals 5-1 today in a game full of frustrations. The Bombers struggled to get on base all afternoon against the Marshals' trio of pitchers, Joey Centanni, Hunter Hill and Adam Scott and only managed three hits.
The game remained scoreless going into the third inning, but the Bombers were finally able to get on the board. Brian Nelson got things started by leading things off with a walk. With Chad Colbert at the plate, Nelson stole second and advanced to third as shortstop J.B. Brown mishandled the throw. Zach Grichor came to the plate next and grounded out to the second baseman, scoring Nelson to put the Bombers in the lead.
Shaun Siebert held the Marshals in check early on, as he retired them in order for the first three innings. He ran into some trouble in the fourth inning, as he gave up two singles, but got Jake Smith to pop up to Danny Hernandez to end the inning. The next inning with Mike Sharp on base, Nick Schwaner lined a deep shot over the right field fence for a home run to give the Marshals the 2-1 lead.
The Marshals extended their lead to 5-1 in the bottom of the eighth inning as they used three hits and a walk to score three runs. The loss drops the Bombers to 16-19 on the season.