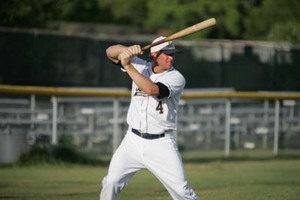 Box Score

The Coppell Copperheads won another pitcher's duel against Brazos Valley, as they triumphed 3-2 at the Snake Pit in Coppell, Texas. Jacob Liedka was excellent in his first start with the Bombers, only allowing five hits and two runs in just over five innings of work, but the Bombers were unable to provide much run support, scoring only on a Brian Nelson home run. Boening was utterly dominant, as he struck out ten Bombers in just six innings of work. Danny Hernandez homered in the top of the ninth inning to tie the game, but the Bombers couldn't hold on as they lost their second straight game.
The score stood lifeless at zero through the first four innings, as Liedka and Riley Boening pitched masterfully and held each other's team in check. Brian Nelson broke the tie in the fifth inning his first home run of the season. The Copperheads answered right back in the sixth inning, scoring two runs to take the lead. Taylor Davis opened up the inning by hitting a home run for the second consecutive game to tie the game at one. Later in the inning, Jaron Shepard walked and eventually came around to score on Austin Goolsby's single for the go-ahead run.
The score stayed the same until the ninth inning as Danny Hernandez came to the plate with two outs representing the last chance for the Bombers. Hernandez hit the one strike pitch from Steve Horlacher deep over the left field fence to tie the game at two. The blast was his third hit of the game and extending his streak to three consecutive games with a hit since joining the Bombers. Unfortunately, the Bombers couldn't hold the lead, as Todd Emr singled home Brock Holt in the bottom of the ninth inning for a walk-off 3-2 victory. The Bombers will be back on the road tomorrow to play the McKinney Marshals in the first of a two game series.