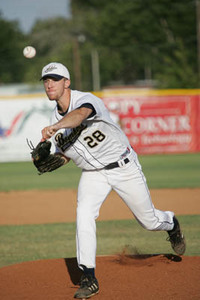 Box Score

Sam Strickland pitched eight strong innings, but the Bombers were unable to put a run across the board as they lost to the Coppell Copperheads 3-0. Taylor Davis hit a three-run home run in the first inning to put the Copperheads on top and that's where the score stood for the rest of the game. The Bombers missed Todd Cunningham, who sat out his third consecutive game with a lower back strain.
The Copperheads never looked back after Davis crushed Strickland's second pitch of the at-bat over the left field fence to go up 3-0. The Bombers threatened several times with runners in scoring position, but they were never able to make the clutch hit. Taylor Zambreski had his second consecutive multi-hit game for the Bombers since joining the team and made several outstanding plays in left field. He will be serving as the everyday left fielder now that Tyler Huelsing is gone for the summer. Huelsing is headed back home to Tennessee to have his wisdom teeth pulled and will not be back in time for the playoffs.
The Bombers will face off with Coppell tomorrow as newcomer from Wharton Junior College Jacob Liedka will take the mound. The loss drops the Bombers to 15-17 on the summer, but they still maintain a half game lead for second place over East Texas,, who lost to McKinney 1-0 tonight.