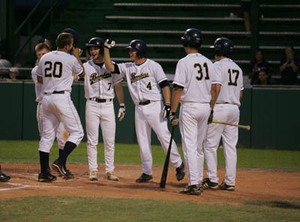 Box Score

History was made at Brazos Valley Bank Ballpark tonight, as the Brazos Valley Bombers and East Texas Pumpjacks battled down to the wire on Kids Eat Free Tuesday. Although the Bombers fell 12-9, Trey Sperring became the first Bombers player to hit a grand slam at Brazos Valley Bank Ballpark.
The Pumpjacks blasted quickly out of the gates with five runs in the first inning. After Nate Bryan hit a two-run single to put the Jacks on the board, Paige Hodges slammed Shaun Siebert's 0-1 pitch over the left field fence with two runners on base to extend the lead to 5-0.
Former Bombers pitcher Clint Helms held the Bombers hitless through the first four innings, but the Bombers came storming back with a seven run fifth inning to take the lead. Jake Sharrock broke up the no-hit bid with a single that he lined into left field in the bottom of the fifth inning to begin the Bombers rally. Two batters later, Chad Colbert hit a sacrifice fly to right field, scoring Kip Masuda to bring the first run across the plate for Brazos Valley.
After the Bombers cut the lead to 5-2 later in the inning, Trey Sperring came to plate with the bases loaded and an opportunity to get his team back in the game. Sperring came through in a big way, as he crushed Helms' pitch over the KBTX sign in left field for a grand slam.
The Bombers were unable to hold the lead however, as the Pumpjacks used two Bombers' errors to score two more runs in the seventh inning to tie the game at seven. Two innings later in the top of the ninth, East Texas scored two more runs to take the 9-7 lead. Unfazed, the Bombers came right back with a pair of runs on Nick Anders' double to tie the score and force extra innings. The Pumpjacks took advantage of Zach Grichor's two-out error in the top of the tenth inning and scored three runs to go back on top, this time for good, 12-9.