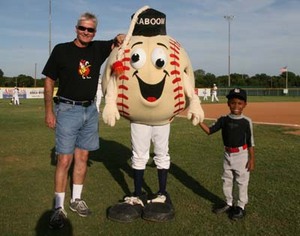 Box Score

A night after falling 12-3 to McKinney, the Bombers struggled again as they were defeated 15-5. Despite the team's troubles, Brazos Valley Bank Ballpark was hopping with excitement as fans took part in Sunday Bingo and watched KaBoom dance to "Chicken Dance" and "I'm a Little Teapot."
The Marshals collected 18 hits and scored 15 runs as they completed the two game sweep of the Bombers. Zach Grichor kept his hot hitting going for the Bombers, as he went 2-for-4 with a run, walk, double, and two RBI. The Bombers will be back at Brazos Valley Bank Ballpark on Kids Eat Free Tuesday to face the East Texas Pumpjacks. Shaun Siebert will be on the mound for the Bombers as they try to get another winning streak going.
The Bombers will be back at the Ballpark on Margaritaville Wednesday, featuring $2 Margaritas, Daiquiris, and Landsharks as they wrap up their series with the Pumpjacks.