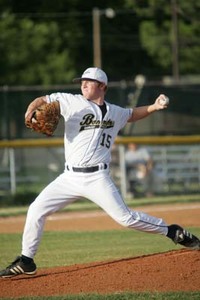 Box Score

After storming into second place with a week of nearly flawless baseball, the Bombers struggled mightily in the field and lost to the McKinney Marshals 12-3. The Bombers made six errors and left the bases loaded twice in the loss. With the game out of reach, head coaches Brent Alumbaugh and Jim Gatewood decided to call the game after seven innings to avoid any injuries. 500 lucky Bombers fans went home with T-Shirts, courtesy of Brazos Valley Bank's Saturday Giveaway.
The Bombers kept it close early, but the errors came back to haunt them as they fell far behind.Trailing 1-0 in the second inning, Jake Sharrock hit an RBI single to right field, scoring Cliff Vaughn to even up the score. The following inning, Myrio Richard hit a line drive that carried over the left field fence for a two-run home run to put the Marshals back on top, 3-1. The Marshals scored nine runs in the fourth and fifth innings on seven hits and six errors to break the game wide open.
The Bombers will be back at home tomorrow against the Marshals on Sunday Bingo, which also includes $1 hot dogs and $1 soft drinks. Don't miss out on the fun at Brazos Valley Bank Ballpark, as the Bombers try to even up the series with the Marshals.