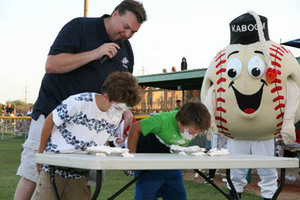 Box Score

Frustrated and struggling for most of the game, the Brazos Valley Bombers seemed to be headed for a loss at the hands of the Coppell Copperheads. But with one swing of the bat, Zach Grichor smashed the first Bombers home run of the season at Brazos Valley Bank Ballpark to even up the score. With the momentum in their favor, the Bombers tacked on four more runs to collect their fourth consecutive victory by a score of 7-3.
The Bombers threatened early, loading the bases in the first inning with only one out, but were held in check as Cliff Vaughn struck out and Tyler Huelsing grounded into a fielder's choice to end the inning. The game remained scoreless until the third inning, when the Bombers ran into some trouble. After Sam Strickland walked Jaron Shepard to begin the inning, the Copperheads used two errors and a single to take a 2-0 lead. With the bases loaded and no outs, the Bombers were still able to minimize the damage by turning a nifty double play with Taylor Davis at the plate. Strickland then struck out Jimmy Pharr to end the inning.
Just when things were starting to look gloomy for the Bombers, Grichor came through with monster home run. With Jake Sharrock and Todd Cunningham on base in the bottom of the seventh inning, Grichor hit a frozen rope over the left field fence off Steven Horlacher. The home run brought the crowd roaring to its feet and tied the game at three. Nick Anders and Cliff Vaughn then walked and advanced on a passed ball by Copperheads catcher Michael Pair, before Tyler Huelsing hit an RBI single to give the Bombers the lead. The Bombers never looked back, as they scored three more runs to put the game out of reach.