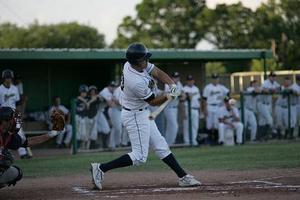 Brazos Valley struggled to manufacture runs all night, but scored when it counted most, rallying from behind to defeat the league-leading McKinney Marshals 4-2. Cliff Vaughn had two RBI hits as the Bombers came through with a clutch win.
Michael Bolsinger had the Bombers handcuffed for eight innings, as he allowed only two hits and one run, but the Bombers scored three runs on Ryan Doyle to take a two-run lead heading to the bottom of the 9th inning. Dustin Rasco came in to notch his eighth save in as many tries as he easily retired the Marshals hitters.
The Bombers will be back home tomorrow for Thirsty Thursday against the Coppell Copperheads. Don't miss out on the fun at Brazos Valley Bank Ballpark as $1 Beer and $0.50 Soft Drinks will be served.