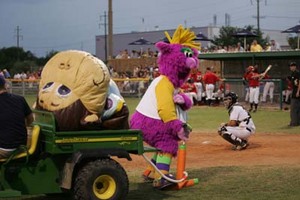 Box Score

The Brazos Valley Bombers rallied from behind for a huge 5-4 victory over the Coppell Copperheads behind Todd Cunningham's three hits. Brazos Valley Bank Ballpark was wild with excitement tonight, as Reggy the Purple Party Dude provided the crowd with a season's worth of entertainment all in one night.
Although they fell behind early 4-1, the Bombers never gave up and provided the fans the most exciting comeback of the season. The Bombers used a hit and error to put runners on second and third before Todd Cunningham hit a bloop single in to center field to score Caleb Shofner and Tyler Huelsing. The hit was Cunningham's third of the night and gave the Bombers the lead for good, 5-4.
With the crowd on their feet, Bombers closer Dustin Rasco came out for the save opportunity in the 9th inning. Although he ran into some trouble as he put Andrew Prince and Brock Holt on first and second, he calmly retired the final two Copperhead hitters to pick up his 5th save of the season.
The Bombers will travel to Kilgore tomorrow to square off against the East Texas Pumpjacks. The Bombers will be looking for a big win tomorrow as Jim McGonigle will be on the mound. The Bombers are currently tied with the Pumpjacks for second place in the TCL.