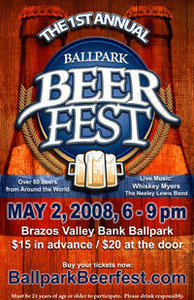 Although the season is less than two months away, the fun is beginning at Brazos Valley Bank Ballpark on May 2, as the Brazos Valley Bank Ballpark is hosting the 1st annual Ballpark BeerFest. It will be a night filled with fun and entertainment as guests will be invited to taste samples from a list of over sixty beers from all around the world. Beer serving stations will be set up all around the ballpark from 6 - 9pm on Friday May 2nd for attendees to come and enjoy an evening that will also include live music from Whiskey Myers and The Neeley Lewis Band.
General Admission tickets are on sale now for $15 if purchased in advance at www.ballparkbeerfest.com or $20 at the ballpark. VIP tickets, which include admission, a pass to skip the lines, an official Ballpark BeerFest t-shirt, and a hot dog, are $25.
A complete list of the beers, driving directions, and information on the Whiskey Myers and The Neeley Lewis Band can also be found at www.ballparkbeerfest.com. Come and join the fun at the 1st Annual Ballpark BeerFest!