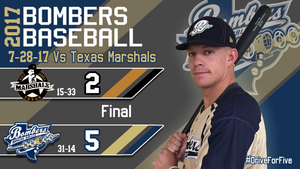 Plano, Texas (July 28, 2017) - In the 5th extra innings ballgame of the season, the Brazos Valley Bombers defeat the Texas Marshals in come-from-behind fashion 5-2 in 11 innings.
For the second straight night, the Bombers had runners in scoring position and opportunities to drive them in throught the ball-game, but struggled to find the big hit.
In the second inning, the Bombers struck first with a run but left the bases loaded to take a 1-0 lead. Then after the Marshals struck for one of their own in the bottom of the 3rd, the zeros started to fill up the box score.
Cole Pletka, Collin Garrett, and Christian Vick all had solid outings on the mound, but saw the Marshals take a 2-1 lead with a run scored in the bottom of the 8th.
Jermayne Ward then singled to lead off the 9th and stole second base to put himself into scoring position with no-one out. After a strikeout, Ward was thrown out after trying to advance to third on an over throw into center field on a pick-off move.
The situation stood with no-one on, a 3-0 count to Chase Calabuig, and down to their final out. Calabuig walked on the next pitch and Jared Mang ripped a fastball over the left-fielder, one-hopping the wall. Calabuig scored from first and tied the game at 2-2.
In Extras, the Bombers struck for 3 in the top of the 11th, then watched as Reid Morgan shut the door for his 5th win in relief this season. With the win, the Bombers improve to 31-14 overall and finish the season series against the Marshals with a 12-2 record.
With a Generals win in Victoria, the Bombers hold the 2.5 game lead in the Baylor Scott & White TCL Standings with 9 games remaining in the regular season.
The Bombers hit the road to take on Acadiana Saturday afternoon. The double-header starts at 5pm and will be looking for their seventh stright win and their fifth straight to start the longest road trip of the year.
For tickets and information on how to see the Bombers continue their Drive For Five, please call (979) 779-PLAY, or go to www.bvbombers.com.
To follow all upcoming news and developments for the Brazos Valley Bombers, follow or like us on facebook.com/bvbombers, and follow us on Twitter: @BV_Bombers and Instagram: bvbombersbaseball.