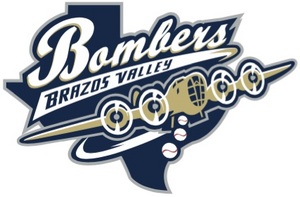 14 Bombers Appear in All-Star Game
Bryan-College Station (July 19, 2016) - The Brazos Valley Bombers entered the All- Star game with a league high fourteen representatives. Amongst the selections were the league leader in home runs, Zach McGuire, saves, Anthony Herrera, and one of the starting pitchers in the All-Star game, Willy Amador.
The All-Star teams were decided by a draft of the selected players. One of the coaches that drafted was the head coach of the Bombers, Curt Dixon. All Bombers' players were selected onto one team, the Vermillion Reds.
The game was largely uneventful for the offense as the Reds lost the game 9-3. Hunter Wilson had the only RBI for the Reds when he drove in a run in the top half of the 7th.
Willy Amador started the game for the Reds and pitched the 1st inning and struck out two of the batters he faced. Garrett Hofstad, also a Bomber, pitched the 2nd inning and gave up three runs on four hits. Anthony Herrera, who made the All-Star game as both an infielder and pitcher, pitched an uneventful 4th and fellow Bomber MacGregor Hines also pitched an inning and struck one of the four batters he faced.
The Bombers return to Nutrabolt Stadium on Wednesday night to take on the Victoria Generals. First pitch is at 7:05 p.m.