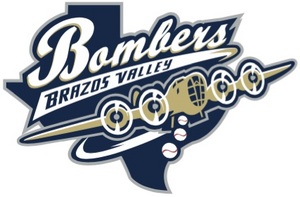 Bryan-College Station (July 15, 2016) - The Bombers entered the night looking to extend their winning streak to fourteen games. Behind the strength of the offense the team was able to pull it out with a final score of 4-1.
Bombers don't wait as they strike first in the top of the first inning. Garrett McCain who was able to draw a leadoff walk, came around to score on a double steal play with Ben Hollas who was on first base. In the next inning the Bombers add two more runs by taking advantage of starting pitcher for the Texas Marshals Keaton Brewer. After two walks Hunter Uzzle drives in two with a line drive single through the four hole, that put the Bombers up 3-0
TCL All-Star Garrett McCain led the bombers at the plate with a run scored and three RBI's on the night. Hunter Neal improves to 3-1 with a 2.48 ERA, and another all star, Riley McCauley, increased his save total to 5 so far this summer.
The Bombers will continue their road trip tomorrow against the Strykers in the Woodlands at 7:05 p.m.