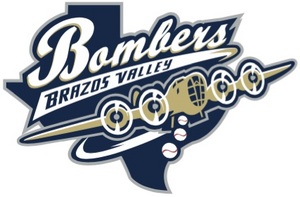 Bryan-College Station (June 22, 2016) – The Brazos Valley Bombers offense dominated in their 8-1 victory against the Texas Marshals. Following a two day break the Bombers returned to the field Wednesday night to win their third straight game behind the strength of the bullpen.
The Bombers started Garrett Hofstead on the mound. Hofstead was able to go four innings and striking out five while only giving up one run on three hits before turning it over to the bullpen, highlighted by MacGregor Hines and Juan Valdez. Hines pitched two innings striking out four of the six batters he faced while Valdez registered one inning pitched and struck out all three batters that he came up against. Overall the Bombers bullpen didn't give up a single hit and only allowed one base runner in five combined innings.
Offensively the team was able to spread out its eight runs, scoring in six of the nine innings. Hunter Wilson went 3 for 4 with a walk, an RBI and two runs scored. John Grimsley was also able to score two runs and reach base four times on four walks.
The Bombers will wrap up their two game road set with the Marshals tomorrow night at 7:05 before returning home on Friday to face the Woodlands Strykers.