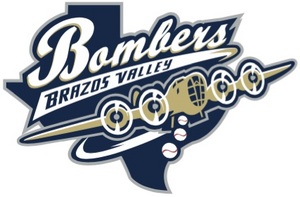 Bryan-College Station, TX (June 14, 2016) – The Brazos Valley Bombers defeated the McKinney Marshals 5-1 Tuesday evening thanks to a few stolen bases, great offense, and solid pitching from Garrett Hofstad who fought for six long innings.
The Marshals took a one-run lead in the first inning after earning a double to start the game. It was not until the top of the fifth inning when Hunter Wilson's single advanced Anthony Herrera and Baine Schoenvogel to score the first two runs for the Bombers. John Grimsley's RBI brought Wilson in for the third run. Wilson's second single brought Schoenvogel and Herrera around the bases causing McGuire to score the fourth run for the Bombers. Logan Bottrell's sacrifice fly led to the second out of the sixth inning, but the fifth and final run for the Bombers.
Garrett Hofstad pitched six hard innings with seven strikeouts and only one run earned. The Bombers tight fielding kept the Marshals from advancing to third base no more than three times throughout the game. The Bombers to extended their win streak to 6, and maintained first place.
The Bombers will take on the McKinney Marshals again tomorrow, Wednesday June 15th, starting at 7:05pm in the metroplex.