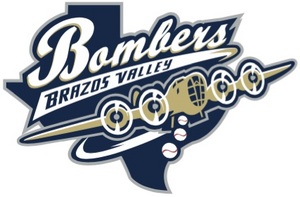 Bryan-College Station, TX (May 31, 2016) - The Brazos Valley Bombers began their quest for four straight championships, Tuesday night as they faced the Woodland Strikers in a mid-week match up.
Garrett Hofstad earned the start on the mound for the Bombers. Hofstad struck out six batters and allowed five hits and no runs in four complete innings of play. The Bomber offense picked up where it left off last season. The Bombers scored two runs in the top of the fourth inning to take 2-0 advantage over the Strikers.
The Bombers will be back in action Thursday night as they return to Nutrabolt Stadium as they take on the Victoria Generals in a two-game home opener. Come out for Thirsty Thursday and enjoy the famous entertainer, BBoy McCoy, along with our Oscar and Son's Body Shop Car Show.
For tickets and more information about the 3-peat defending champion Bombers, (979) 779-PLAY or go to www.bvbombers.com. Download the Bombers mobile app today for all the latest news, social media and promotions: www.bit.ly/bombersapp