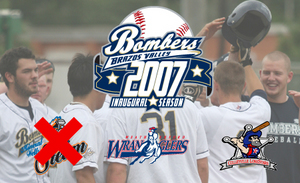 The Brazos Valley Bombers three-game road trip was 40 minutes old before it became a two-game road trip. With the team less than an hour into the bus ride to Mineral Wells this afternoon, tonight's game with the Steam was postponed due to rain.
No decision has yet been made about a makeup date. Tonight's game was already a makeup of a prior rainout, when the Bombers were scheduled to visit Mineral Wells on June 17.
In other rainout news, the Bombers have rescheduled their doubleheader with the Coppell Copperheads from July 2 for July 10, the day after the TCL All-Star Game. The Bombers will visit Coppell for the day to play a pair of seven-inning games, the first beginning at 5:05 pm.
The Bombers will take to the road again on Friday as they make the trip to play the Weatherford Wranglers, followed by a Saturday divisional contest in Duncanville against the Deputies.
The All-Star break begins on Sunday, followed by the TCL All-Star Game on Monday, July 9. Pitcher Casey Whitmer and third baseman Joseph Towns will start for the Speaker Division, and first baseman Will Basom, outfielder Keith Stein, designated hitter Mark McGonigle, and relief pitcher Tyler Davis will join them as reserves.
After the doubleheader in Coppell, the Bombers will enjoy another off-day before returning to action at Brazos Valley Bank Ballpark for a blockbuster three-game stretch, featuring Thirsty Thursday on July 12, Fireworks Friday on July 13, and Bombers T-shirt Giveaway Night on July 14.