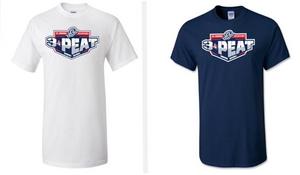 Bombers Commemorative 2015 3-Peat Championship Shirts Now Available
Historic 2015 Season Celebrated With 3-Peat Championship Merchandise
Bryan-College Station, TX (October 7, 2015) - Just two short months ago, the Brazos Valley Bombers secured their third consecutive Texas Collegiate League Championship title. The Bombers are excited to announce that fans can grab a piece of history with the commemorative 2015 Three-Peat Championship shirts that are now available for purchase.
Bombers fans can choose between a navy dri-fit featuring the Bombers 3-peat logo on the front and a soft white tri-blend t-shirt that also proudly displays the 3-peat logo across the chest. Each shirt is available in sizes ranging from Small to 3X for $18 and can only be purchased during this exclusive championship merchandise sale. The shirts can be purchased through the Bombers online store at shop.bvbombers.com.
For tickets and information on how to see the Bombers during the 2016 season, please call (979) 779-PLAY, or go to www.bvbombers.com. To follow all upcoming news and developments for the Brazos Valley Bombers, follow or like us on facebook.com/bvbombers, and follow us on Twitter: @BV_Bombers and Instagram: bvbombersbaseball.